This article is a stub. You can help Murdered: Soul Suspect Wiki by expanding it.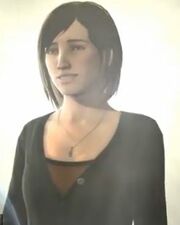 Julia O'Connor (nee Reyes) is a character featured in Murdered: Soul Suspect. Julia is the deceased wife of Ronan O'Connor and sister of Rex.
Apperance
Edit
Personality
Edit
Background
Edit
Julia was born on August 22, 1981. At some point several years before the events of Murdered: Soul Suspect, Julia and Ronan fell in love, as Julia's Artifacts explain over the course of finding them. Ranging from her struggling to cope with his dark past to her finally falling in love with him and to her eventual death, she has a profound effect on Ronan throughout the game.
One day on June 7, 2 months before her birthday, Julia attempted to stop an argument between two men. One of the men pulled out a knife and stabbed her. He ran, never being caught. Julia died in Ronan's arms.
Murdered: Soul SuspectEdit
During the events of Murdered: Soul Suspect, Julia is in the light and sees Ronan after he dies. She tells him to complete his unfinished business so they can be together again. Once he does that, he will have peace and transcend.