"Ghosts never die."
―Rex, referring to Ronan.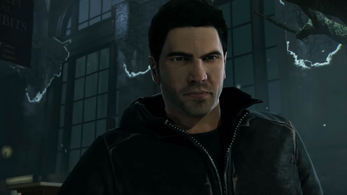 Lieutenant Javier "Rex" Reyes is a character featured in Murdered: Soul Suspect. He is the brother of Ronan O'Connor's wife, Julia, the protagonist's brother-in-law, and a lieutenant in the Salem Police Department. He seems to have had a very good relationship with Ronan, as he had convinced him to become a police officer, but also shows deep compassion toward him when he is killed. This is shown when he punches Baxter after he mocked Ronan's corpse, and his anger toward his officials when they do not let him take over the case to avenge Ronan.
Murdered: Soul SuspectEdit
He is one of Abigail's puppets. He was used to execute the protagonist. Rex is mentioned in many of Julia's Thoughts, as someone who was very fond of Ronan and Julia's relationship. After Ronan is killed, Rex shows up at the Street investigation scene and mourns for his loss. He is overcome with anger at the death of Ronan, and when in the Bell Killer War Room, he is yelling at someone on the phone.
At the end of the game he is possessed by Abigail, and is preparing to hang Joy. As a Ghost Ronan steps in and eventually forces Abigail out of Rex's body. He lays there for most of Ronan and Abigail's bout, but eventually frees Joy and she, in return, completely understands him and does not press any charges, making Rex a free man.
Rex is voiced by Travis Willingham, who also voices Knuckles the Echidna from the Sonic the Hedgehog series, Reggie Rowe from inFamous: Second Son, and Sideswipe in Transformers War for Cybertron and Fall of Cybertron, and Onslaught and Slug in Fall of Cybertron and Carl Stoddard in Battlefield : Hardline. He is also known for his role in the online D&D stream game on twitch; Critical Role.