This article is a stub. You can help Murdered: Soul Suspect Wiki by expanding it.
Please keep Easter Eggs in alphabetical border
Easter Eggs are allusions to other media, most prominently other Square Enix titles, scattered throughout Murdered: Soul Suspect. They are normally found in hidden or otherwise unnoticed locations throughout the game, such as being tucked away in a corner of the map that is off the beaten path.
Easter Eggs
Edit
Deus Ex: Human RevolutionEdit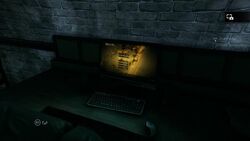 In the Salem Police Station, on most computers the main menu for the PC version of Deus Ex: Human Revolution, another Square Enix title, can be seen.
Just Cause 2Edit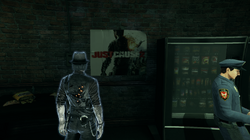 Also in the Salem Police Station, there is a poster for open world Square Enix game Just Cause 2, in between some soda machines, on the left when first entering the building.
Tomb RaiderEdit
Possess a certain woman in town to see her attempt to remember Lara Croft's name from Tomb Raider.[1]
References
Edit